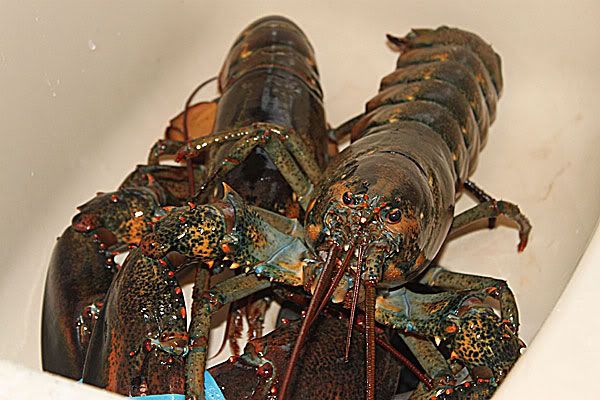 Meet Leah and Larry, the lobsters. The Yangs, Leah and Larry came over for New Years Eve and celebrated with us. We watched a movie, stuffed ourselves with the above creatures, the kids played and then we put all the kids to bed. I was thinking about playing games once the kids were in bed, but we realized no one wanted to risk waking them up, so we vedged out on the couch until midnight. I must not be used to sitting around for extended periods of time, because I had sciatic problems that night and a few days after. :/
The kids playing with Leah and Larry.
Leah
Bye-Bye Leah and Larry. That's what I call fresh seafood! Notice a trend when we get together with the Yangs? We love good food. I love that Mary and Min enjoy a good meal as much as we do. We definitely ended
2010
right - with a good meal, lobster and king crab.
YUM!!!