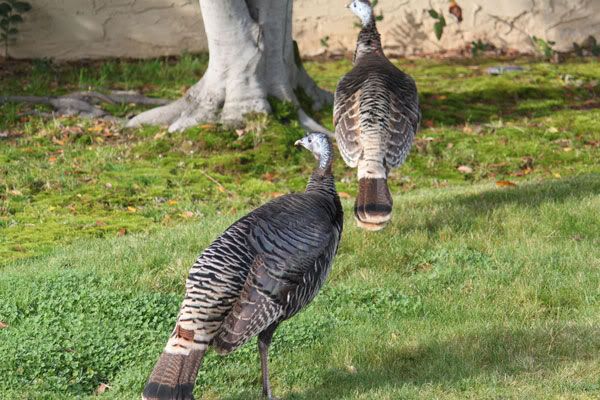 These fellas are what is for dinner tonight. Just kidding. We looked out the window this morning to find this little herd of turkeys running around our cul-de-sac. They come around every month or so, and the kids enjoy watching and yelling at them.
This is what we really had for dinner last night. Probably one of my favorite meals (fish, salad and bread)
Salmon
I usually buy plain salmon and season it myself, but this time I just picked up the pre-seasoned fillets at Costco (they were cheaper than the regular ones)
(Love, Love, Love this salad - reminds me of the salad at Bucca Di Beppo)
This recipe calls for the spring salad mix at Costco, but I just used ice berg lettuce and spinach leaves
Walnuts (I used pecans, because that's what I had)
DRESSING: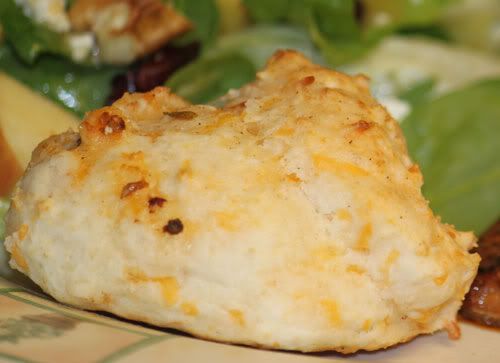 2
cups
Bisquick
2/3
cup
milk
1/4
teaspoon
garlic powder
1/2
cup
shredded sharp cheddar cheese
1/4
cup
butter
1/2
teaspoon
garlic powder
1/4
teaspoon
Old Bay Seasoning
(I didn't have this so I just put in a pinch of cloves, dry mustard, nutmeg, ginger, and allspice) I've skipped this step entirely before, and they taste just as good.
1/4
teaspoon
kosher salt
1/2
teaspoon
parsley flakes
1
Heat oven to 450.
2
Mix Bisquick, garlic powder, milk and cheese until well blended.
3
Drop dough by spoonfuls onto ungreased cookie sheet.
4
Bake 8-10 minutes.
5
Combine butter, garlic powder, old bay, parsley and salt.
6
Melt in microwave for 20 seconds.
7
Brush top of biscuits with butter mix.
Meal Difficulty: 1
Stars: 5
Sorry if you get sick of all these recipes, but I'm going to start putting them on here so I can start compiling them in one location.